Let everyone know about your unique features, stand out in a crowd of competitors
What is the best way to create a brand association (in the way you want) in customers' minds? Your positioning (or brand positioning) is the answer here since it refers to how your brand meets your consumers' needs in a way that your competitors don't. Based on your positioning strategy, your positioning statement should emphasise distinguishing or unique features of your brand and reflect your brand positioning in everything you provide.
Your brand positioning is quite substantial for your business because it will be the cornerstone of your marketing messages and provide the content for your taglines, elevator pitch, slogans, etc. A successful positioning strategy will maximise customer relevancy, competitive uniqueness and increase brand value.
In order to build a strong positioning statement, you need to clarify some key points about your brand, customers and competitors. We've prepared this tool for you so that you can easily create your brand positioning.
What Does This Strategy Tool Include?
With this tool, you'll be able to create as many positioning statements as you want for each product/service/solution and persona. You will also be able to view and delete your completed positioning statements as well as take other actions. Even if you don't have an established brand, the Growth Marketing Hub is designed to give you the opportunity to exercise each module and process:
Choose or Create Your Brand / Product: You can either choose one of the brands/products you have created at the "Internal Check-Up" tool or create a new brand.
Choose or Create Your Persona: You can either choose one of the personas you have already created at the "Persona Creation" tool or create a new persona.
Create your Positioning: Here, you will be able to establish your brand's uniqueness and identify what differentiates you from your competitors with examples and tips.
How Will I Use This Strategy Tool?
In order to help you to use this Positioning Creation tool, we've prepared a step-by-step guide for you. The Positioning Creation Guide includes screenshots from the dashboard and introduces you to the essential concepts and the terminology with valuable tips and growth tactics.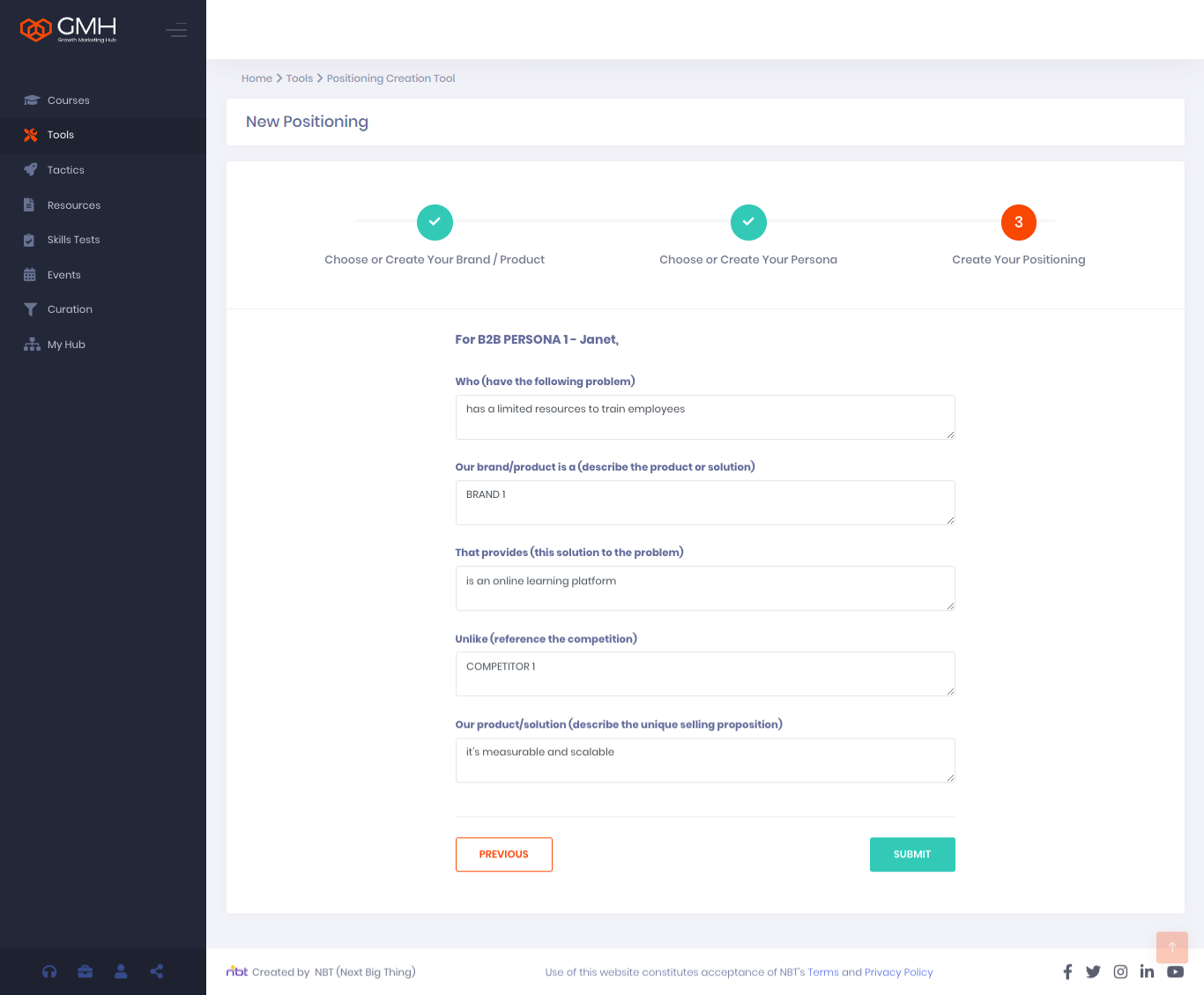 Who is This Strategy Tool for?
GMH Growth-Driven Marketing Strategy Tools are designed for those who want to create a strong growth structure and apply a sustainable digital marketing strategy for their organisation. GMH tools are also highly useful for those who don't have an established brand and just want to learn. You can benefit from this tool if you are:
A traditional marketer who wants to upskill into growth-driven and digital marketing
Any digital marketing professional who wants to build and manage a sustainable growth driven marketing strategy
An inspired career changer
A small-business owner or an entrepreneur who wants to grow their business
A graduate who just wants to learn the latest marketing techniques and methods
Related Courses
Related Tools