Define your personas for better targeting and personalised communications
The hypothetical and generalised representation of your ideal customers - your personas (or a buyer persona) play the most important role in your growth marketing activities. Every persona's pain points, goals, and accordingly - their reasons for buying your product/service will differ, so all of your marketing activities and future communications have to be done accordingly.
Why is Persona Creation Essential for My Business?
Creating personas for each product/service or solution is essential for your future marketing activities or anything else that relates to customer acquisition and retention. Defining your buyer persona(s) will enable you to easily tailor your funnels, landings, ads, content marketing, and email marketing activities around their needs. You will also be able to shift your marketing strategy and activities based on the persona that gives you the most successful results.
What Does This Strategy Guide Include?
This comprehensive guide covers the main steps for you to create your personas depending on your business model (whether it's B2B or B2C). The guide also introduces you to the essential concepts and the terminology in persona creation with tips and growth tactics. Additionally, you will be able to exercise each module and process in the Growth Marketing Hub with the help of the dashboard screenshots.
For B2B Businesses, persona creation is carried out in 3 categories:
Demography
Business
Objectives and Challenges
For B2C Businesses persona creation is carried out in 6 categories:
Demography
Daily Routines & Financial Info
Online Behaviors
What Influences Them
Dreams & Fears
Brand Affinities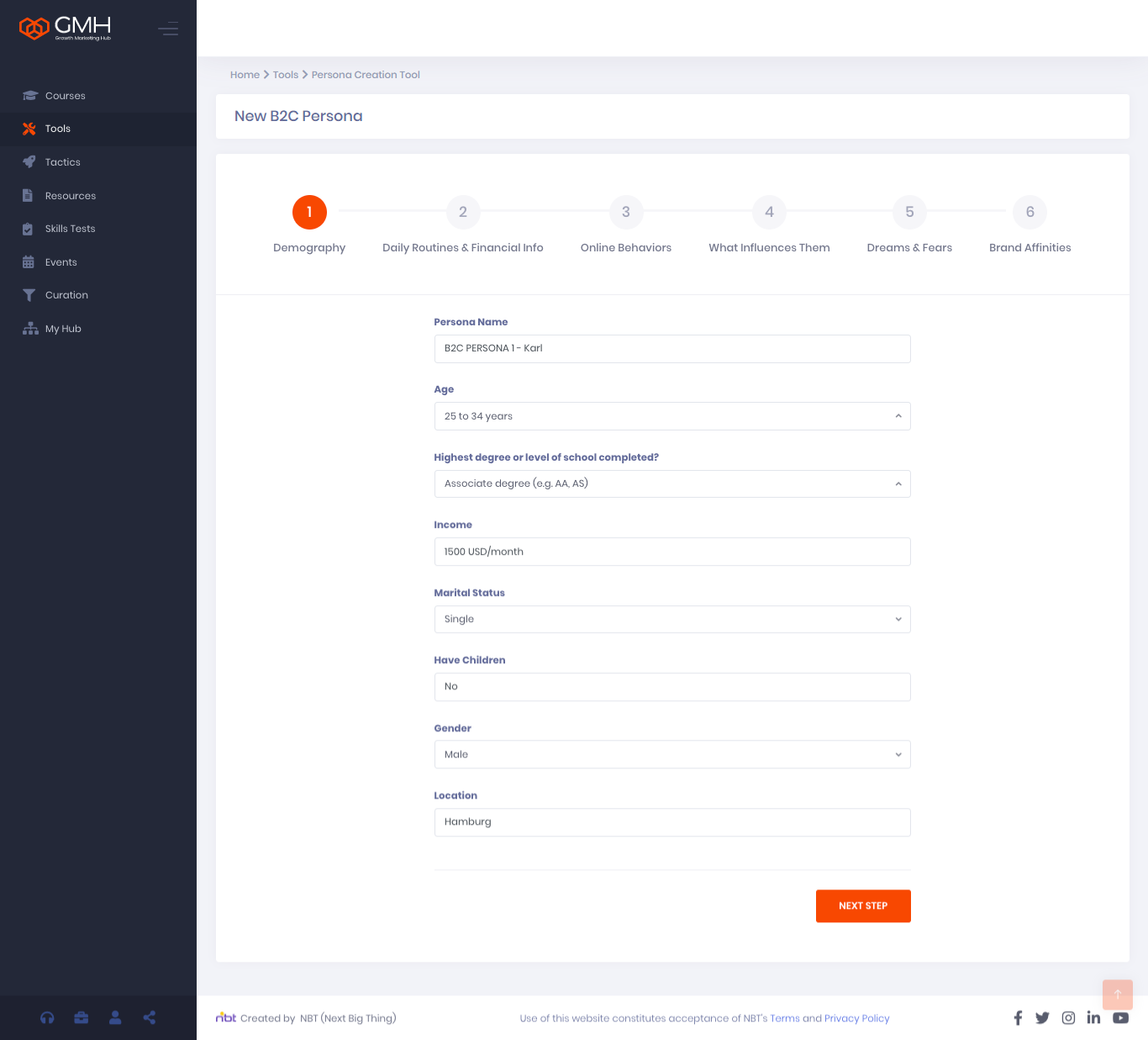 Who is This Strategy Guide for?
GMH Growth-Driven Marketing Strategy Guides are designed for those who want to create a strong growth structure and apply a sustainable digital marketing strategy for their organisation. GMH guides are also highly useful for those who don't have an established brand and just want to learn. You can benefit from this guide if you are:
A traditional marketer who wants to upskill into growth-driven and digital marketing
Any digital marketing professional who wants to build and manage a sustainable growth driven marketing strategy
An inspired career changer
A small-business owner or an entrepreneur who wants to grow their business
A graduate who just wants to learn the latest marketing techniques and methods
Related Courses and Tools
Courses
Tools